The Authors in Bloom Giveaway Hop: Win an EReader, Gift Cards, Books, and more!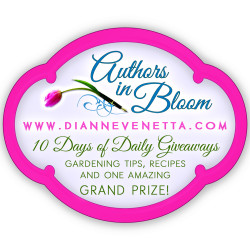 Welcome to the 5th annual Authors in Bloom Blog Hop! I'm so excited to be taking part this year! I have loads of fun stuff for you—a delicious chocolate dessert recipe, a digital ARC of my upcoming release to give away, and of course your chance to enter the big prize draw when one lucky winner will receive their choice of a Kindle Fire or Nook.
Before that, for the benefit of those of you visiting my website for the first time, let me share a little about me and my writing…
I live in the UK, in a quiet spot close to the River Thames in Berkshire, and my family would no doubt tell you I'm a recluse. I, on the other hand, prefer to think of myself as selectively sociable, someone who chooses their friends with care. I'm a huge dog lover, an avid reader and book promoter, and spend many hours attempting to play the melodica, with questionable success!
I'm a steadfast believer that love is love, and am a passionate advocate for LGBT rights, something which spills over into my creativity. I write sensual m/m romance about young men on the brink of adulthood, exploring their emotional and physical journeys as they navigate the many ups and downs of love and life. My debut novel, the first instalment in my Boys on the Brink series, will be released in September 2016.
Caught Inside (A Boys on the Brink Novel)
Blurb
Luke believes he has his life figured out…and then he meets Theo.
It should have been simple—a summer spent with his girlfriend Zara at her family's holiday cottage in Cornwall. Seventeen-year-old Luke Savage jumps at the chance, envisioning endless hours of sunbathing on the private beach and riding the waves on his beloved surfboard. He isn't interested in love. Though his rugged good looks and lazy charm mean he can have his pick of girls, he has no intention of falling for anyone.
Nothing prepares Luke for his reaction to Theo, the sensitive Oxford undergraduate who is Zara's cousin and closest friend. All at once, he is plunged along a path of desire and discovery that has him questioning everything he thought he knew about himself. No one, especially Zara, must find out; what he and Theo have is too new, too fragile. But as the deceit spirals beyond their control, people are bound to get hurt, Luke most of all.
Preorder Your Copy Today!
Available to purchase direct from Beaten Track Publishing or at Amazon UK | Amazon US | Barnes & Noble | Kobo | All Romance eBooks and in various digital formats on Smashwords
Recipe: Chocolate Coconut Ice Cream Sandwiches
Ready in just 10 minutes, this is a super simple way to transform shop-bought biscuits into a treat that dessert lovers of all ages will love.
Serves 4
Ingredients:
500ml coconut or vanilla ice cream
175g dark chocolate chips
8 digestive biscuits
4 tbsp unsweetened desiccated coconut
Method:
Remove the ice cream from the freezer and leave to stand at room temperature to soften slightly. Put the chocolate chips in a heatproof bowl and rest it over a pan of gently simmering water, making sure the bottom of the bowl does not touch the water. Heat, stirring occasionally, for 2–3 minutes until the chocolate has melted. Remove the bowl from the heat.
Put the biscuits on a small baking sheet or a plate. Spread the melted chocolate over the top of each, sprinkle with the coconut and freeze for 5 minutes until the chocolate has set.
Turn 4 of the chocolate-coated biscuits over and put a scoop of the ice cream on each one, then sandwich with the remaining biscuits, chocolate-sides up. Serve immediately.
Giveaway
I'm thrilled to be giving away a digital ARC of my upcoming Contemporary YA M/M Romance Caught Inside to five lucky winners. The contest is open to entrants worldwide. Simply Enter below for your chance to win!
Leaving a comment will also enter you into the grand prize draw, when one lucky winner will land their choice of a Kindle Fire or Nook, and the runner-up will receive a $25 gift card. Don't forget to leave your email address in the comments so you can be contacted if you win. .
Winners will be announced both on Dianne Venetta and on LoominThyme
Remember, you must comment on all participating blogs to be eligible to scoop the grand prize, so be sure to visit my fellow authors taking part in the hop, all of whom are listed below.
Good luck!